Rongali Bihu in Assam
Beautiful agricultural state of Assam celebrates major agricultural events as the festival of Bihu. Notably there are three Bihu festivals in year namely - Rongali Bihu or Bohag Bihu, Bhugali (Magh Bihu) and Kangali (Kati Bihu) marking the distinctive phase in the farming calendar.
The Rongali Bihu marks the agricultural New Year at the advent of seeding time and is celebrated as the Festival of Merriment.
The Kati Bihu marks the completion of sowing and transplanting of paddies.
The Magh Bihu marks the end of the harvesting period.
Of the three Bihu festivals, Rongali Bihu is celebrated with greatest excitement as it marks the arrival of spring - the agricultural season. People of all faiths and creed celebrate Bohag Bihu by singing traditional Bihugeets and performing group folk dances.
Rongali Bihu derives its name from Sanskrit Vishuvam meaning vernal equinox when day and night is of equal duration. At the time of Rongali Bihu people welcome the spring season and pray for a bountiful and rich harvest. Bohag Bihu falls in the first month of the Assamese calendar called Bohag. This corresponds to mid-April according to English calendar year. Rongali Bihu normally starts from the 13th day of April.
Rongali Bihu Traditions and Customs
To celebrate the joyous Rongali Bihu festuival, people of Assam wear new and colourful clothes. People visit their neighbors, friends and relatives and distribute sweet as they greet each other a Happy Bihu. Many people also organize grand feasts in the house to celebrate the occasion. Traditional festive food of Bohag Bihu is the special cake known as the pitha.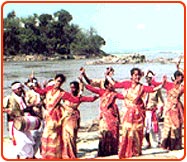 Colouful rituals mark the first day of Rongali Bihu celebrated as Garu Bihu. This day is dedicated to the cattle and livestock. The rest of the weeklong celebrations of Bohag Bihu are known as Manuh Bihu. A mood of festivity and gaiety is seen throughout Assam during the seven days of Rongali Bihu.
Rongali Bihu Celebrations
Rongali Bihu celebrations are quite colourful and vibrant. Marking the occasion young boys and girls in village don traditional dhoti, gamosa and saadar mekhela and sing Bihugeets or folk Bihu songs in traditional bihutolis or Mukoli Bihus. The accompanied orchestra of dhol, pépa (buffalo hornpipe) and gagana add joys to the celebrations. At several places Bihu fairs are also organized where people participate in the games and other fun-filled activities.