Five Sikh Symbols
The five Sikh symbols are items of clothing, known as the "PanjKaake". These five symbols or the five K's of Sikh faith were introduced by Guru Govind Singh Ji. These five K's were introduced on the day of Vaisakhi in the year 1699 when Khalsa was established by Guru Govind Singh. These five Sikh symbols are an integral part of the religion that have to be worn compulsorily. The "PanjKakke" or the five symbols of Sikh faith symbolize the unique, devoted and disciplined personality of the followers of Sikhism. These five unique symbols, Kesh, Kirpan, Kara, Kangha and Kachhera, are to be worn by every Sikh after getting baptised or after tasting Amrit.
Importance of the Five Sikh Symbols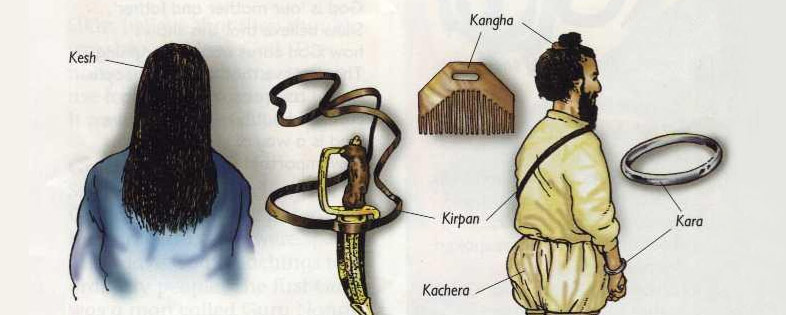 Kesh:In Sikhism, long uncut hair, the "kesh" are an indispensable and unique part of the attire. A symbol of devotion, Kesh provide a distinguished appearance to the followers of the faith. According to Sikh belief the hair need to be covered with a piece of cloth called "Dastaar" or turban. A symbol of leadership the turban or dastaar is worn by both men and women.
Kirpan:Kirpan is a small dagger 6-9 inches long in size hung with the help of a strap called "gatra". It is the symbol of courage and duty towards the protection of the suppressed and the weak.An essential part of the Sikh costume the dagger is supposed to be used only in self-protection or protection of the oppressed.
Kara:Kara or a bracelet made of steel is a symbol of power and honour. Steel represents resilience and the circular form of the Kara signifies seamless existence of God. It also signifies the strong will power, spiritual strength and social bonding of a devout Sikh.
Kangha:Kangha or a small comb made of woodis another essential article used and worn by a Sikh. It is used by the Sikhs to untangle and clean the hair. A symbol of cleanliness and order the kangha was introduced by Guru Govind Singh to remind the followers to appreciate and conserve what has been bestowed by the Almighty and live a clean and organized life.
Kachhera:A symbol ofself-discipline, purity and modesty the Kachhera is a boxer short made of cotton. It is a symbol that prohibits from getting involved into any act of adultery.