About Us
Baisakhi is one of the biggest festivals of Sikhs and is celebrated on April 13 (or 14) every year. The large farming community in Punjab celebrates Baisakhi as a harvest festival with extreme enthusiasm and gusto. Highpoint of the celebration being the traditional bhangra and gidda dance by the vibrant people of Punjab. Another very significant aspect of Baisakhi is that the festival marks the foundation of Khalsa Panth by the tenth guru, Guru Gobind Singh. Sikh community around the world, therefore, celebrates the festival with devotion. Through this comprehensive and detailed web site on Baisakhi Festival, Society for the Confluence of Festivals in India (SCFI), wishes to portray the various aspects of the festival as seen in the colourful state of Punjab.
As a socially responsible manifestation, Society for the Confluence of Festivals in India endeavors to create value for the Indian society by introducing the beauty, grace and wisdom embodied in the various festivals of India, thereby preserving India's rich cultural heritage. We bring unique customs, traditions and goodness of Indian festivals to form a distinct association known as the Society for the Confluence of Festivals in India. Through this organization, we hope to form a mutual respect for and foster the common bond that various Indian festivals share.
The great diversity of Indian religious beliefs is projected through the various festivals that are celebrated in India. They arise from the innate desire of man to seek diversion from humdrum activities that help in symbolizing, reflecting and enriching social life in a specific cultural setting. SCFI seeks to conserve and promote an awareness of this rich and diversified cultural treasure amongst the citizen of this country through various expositions that focus on the tradition of excellence, conversing the famous legends, rituals, mythology and philosophy of Indian Festivals and in turn facilitating an awareness of their deeper and subtler values.
SCFI on Baisakhi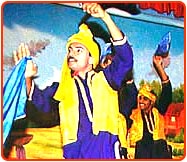 By creating this detailed web site, SCFI wishes to generate awareness about the religious significance of Baisakhi for Sikhs and it's social and cultural significance for citizens of Punjab. Along with studying details of Baisakhi including its history, legends, traditions and celebrations, efforts have been made to present a glimpse of Sikhism through various articles. Joyful aspects of Baisakhi such as bhangra and gidda dance besides langar and kara prasad have also been discussed to present a glimpse of the wide panorama of Baisakhi in Punjab. SCFI also invites suggestions and contributions from its visitors in the form of recipes, songs, messages and greeting to further enhance and improve the web site.
Contact Address:
Society for the Confluence of Festivals in India
Email:
scfifestivalnetwork@gmail.com