Legends of Baisakhi
There are various legends associated with the colourful and vibrant festival of Baisakhi. A study of these interesting legends of Baisakhi reveal that the day of Baisakhi is significant not just for Sikhs but also for Hindus and Buddhists alike. Besides, it is joyous to note that as a harvest festival, people of all communities in Punjab celebrate Baisakhi in a harmonious manner.
Harvest Festival
Baisakhi Festival marks the time for the harvest of Rabi crops and is therefore celebrated with utmost joy and enthusiasm in the state of Punjab where agriculture is the predominant occupation of the people. To celebrate the occasion, people dress themselves gaily and perform the joyful bhangra and giddha dance on the tune of the dhol. Farmers in Punjab celebrate Baisakhi Festival to hilt by feasting and merrymaking before they hit on tiring but joyful task of harvesting from the next day.
As a harvest festival, Baisakhi is also celebrated by different names and with different rituals in several regions of India. Regional celebrations of Baisakhi are marked as Rongali Bihu in Assam, Naba Barsha in Bengal, Puthandu in Tamil Nadu, Vishu in Kerala and Vaishakha in Bihar.
Birth of Khalsa
The day of Baisakhi marks the birth of Khalsa Panth and therefore holds tremendous significance for the Sikhs. It was on the Baisakhi Day meeting organized at Anandpur Sahib, in 1699, that the tenth Guru of Sikhs, Guru Gobind Sigh laid the foundation of Khalsa Panth and called on the Sikhs to sacrifice themselves for their community.
Besides, it was on the Baisakhi Day that Guru Gobind Singh administered amrit (nectar) to his first batch of five disciples, the Panj Piaras making them Singhs, a martial community. After the Baisakhi Day in 1699 the tradition of gurus was discontinued, and the Granth Sahib - the Holy book of the Sikhs was declared the eternal guide of the Sikhs.
Day to Receive Guru's Blessings for Sikhs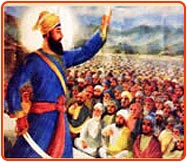 According to a popular legend in Sikhism, it was on the day of Baisakhi in 1567 that Guru Amar Das had first institutionalized Baisakhi as one of the special days when all Sikhs would gather to receive the guru's blessings at Goindwal.
Foundation of Arya Samaj
The day of Baisakhi Festival is also important for the Hindus as it on this day in 1875 that Swami Dayanand Saraswati founded the Arya Samaj - a reformed sect of Hindus who are devoted to the Vedas for spiritual guidance and have discarded idol worship.
Attainment of Nirvana by Gautam Buddha
For the Buddhist, the day of Baisakhi Festival is significant, as according to a popular legend it was on this auspicious day that Gautam Buddha attained enlightenment or Nirvana under the Mahabodhi tree in the town of Gaya. For this reason, the day of Baisakhi is celebrated as Buddha Purnima is several parts of the country.