Baisakhi Recipes
Zestful people of Punjab relish the best of Punjabi cuisine on the joyful festival of Baisakhi. Given here is a collection of traditional Baisakhi Recipes to help you celebrate the festival with the best of Baisakhi food. In case, you too have an interesting recipe, please share it with us and help us enhance this biggest web site on Baisakhi Festival.
List of Baisakhi Recipe
Non-Veg Recipes
Veg Recipes
Non-Veg Recipes
Achari Mutton
Ingredients
4 Onions
4 Tomatoes
800 gms Boneless mutton
½ tsp Turmeric powder
1 tsp Mustard seeds
1 tsp Kalonji (onion seeds)
5 Cloves
1 tsp saunf (fennel seeds)
1 tsp Red chili powder
2 tbsp Ginger
2 tbsp Garlic
½ cup Coriander (chopped)
8 Whole Red Chillies
1/2 cup
7 tbsp Mustard Oil
Salt (according to taste)
Method: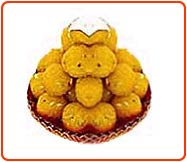 Wash and cut the mutton into small pieces
Chop onions and tomatoes.
Roast the whole spices separately. Grind them altogether.
Add the chopped ginger-garlic in a kadahi with heated oil in it. Add coarsely ground masala powder.
Keep stirring all the time.
Add mutton to it and cook it on high heat till the time it turns brown.
Add tomatoes, red chilli powder, salt, turmeric powder and mix it well.
Cook till the time oil leaves the masala.
Add about 3 cups of water, bring it to a boil and cover.
Cook it till the time mutton is fully done.
Put coriander leaves on its top and serve hot.
Tandoori Chicken
Ingredients:
1 kg Chicken
1 tsp Green chilli paste
1 tsp Garlic paste
1 tsp Ginger paste
1 tsp Red chilli powder
1 tsp Garam masala powder
1/2 Cup Yogurt
2 tbsp Lemon juice
Vegetable oil
Salt (according to taste)
Method:
Wash chicken thoroughly. Prick diagonally it with knife or fork all over.
Mix red red chilli powder, salt and lemon juice altogether and apply it over the chicken.
Marinate it for 30-45 minutes.
Add ginger, garlic and green chilli paste to the churned out yogurt. Also add garam masala and mix well.
Pour this yogurt mixture over the chicken and toss, so that it gets coated well all through, with the paste.
Again marinate it for 5-6 hours.
Brush the chicken with little oil. Then put it in a grill and cook for about 20 minutes (almost cooked). Finally smear the chicken with oil and again roast it until fully cooked. Serve hot.
Saag Meat
Ingredients:
500 gms Mutton
1 Bunch spinach leaves
2 tbsp Tomato puree
3 tbsp Oil
Salt (according to taste)
For Paste
3 Onions
½ - 1 Garlic
1-1/2 tsp Ginger
1 tsp Coriander powder
For Powder
1 tsp Khus khus
1/2 tsp Chilli powder
1 tsp Cumin powder
Garam masala
Method:
Boil spinach leaves and grind to make fine paste.
Fry onion till it turns golden brown.
Now add garlic and ginger paste and fry for about 2 to 3 minutes.
Put the mutton and add khus khus, chilli powder and salt.
Cook mutton on low flame till it turns light brown.
Now add cumin powder, tomato puree, coriander powder and the ground spinach.
Cover for a while. Keep a check and do not let mutton stick to the vessel.
Turn off the gas when the mutton is well done.
Sprinkle some garam masala.
Serve with plain rice.
Veg Recipes
Coconut Laddoo
Ingredients
1 cup suji (semolina)
1 1/2 cups grated fresh coconut
1 tin Milkmaid
1 cup caster sugar
Method:
Roast suji in a round vessel and when it starts turning light brown take it out and keep aside.
Add atleast one cup grated coconut to the semolina and keep the mixture to cool down.
Keep rest of the grated coconut to wrap the laddoos.
Put caster sugar after a while and add ¾ tin milkmaid. Mix well.
Make small balls of the mixture.
Roll the balls in the coconut powder.
Place it in the refrigerator.
Laddoos are ready to serve.
Sarson Ka Sag
Ingredients
(Serves 6)
1 kg Sarson (mustard greens), chopped finely
1/4 kg Spinach, chopped finely
4 cloves garlic minced
2 cm piece ginger, minced
2 Green Chilies, minced
2 Red Chilies
2 tbsp. Gram Flour, sieved
1 tbsp. Butter
Ghee
Salt to taste
Method
Boil both the greens till soft. Remove excess water and mash the leafy vegetables well and reserve.
Heat 4-tbsp ghee and add ginger, garlic, green chillies and broken red chillies.
When the masala has been browned, add the mashed saag and salt.
Mix the gram flour in a little water and add to the saag.
Simmer for at least 30 minutes.
Serve, topped with a spoon of butter, with makki (maize flour) ki roti.
Makki ki Roti
Ingredients
2 cups Corn Flour or Makki ka atta
Radish (grated)
Warm Water
Salt (optional)
Method
Knead makki (corn) ka atta with warm water just before cooking the rotis.
While kneading, add some grated radish and salt.
To roll it, put a square of polythene paper on the kitchen platform.
On this put a ball of the kneaded dough.
Cover with another piece of polythene and then press with the ball of your palm till you get the size of a roti. This roti is slightly thicker than the normal roti.
Remove the polythene cover and transfer the roti to a hot tava (skillet).
Cook on low heat, turning till both sides are roasted.
Apply some ghee or butter.
Serve hot with Sarson ka Saag.
Pindi Chana
Ingredients
1 cup Chickpeas (chole)
21/2-inch Ginger, 3/4th of it shredded finely for garnish
2tsp. Garlic, finely crushed
2 Onions (chopped)
3 medium sized Tomatoes, chopped
2 Green Chilies, sliced
Finely chopped coriander leaves
2tsp. Ground Coriander
11/2 tsp. Ground Cumin
1/2tsp. Turmeric powder
1/2tsp. Garam Masala
1/2 - 1tsp. Red chili powder or as per taste
1 Tea Bag or 1 tbsp. black tea leaves tied in cheesecloth
2-3 tbsp. Oil
Salt to taste
Method
Soak Chole in water overnight or for about 6 hours.
Cook chole with salt and enough water in the cooker for about 20 minutes or till fully done.
Drain, reserving 1 cup of cooking liquid.
Finely chop the remaining ginger.
Heat oil and sauté onions till golden. Then add garlic and chopped ginger and green chilies. Sauté for 5 minutes.
Add tomatoes, coriander, cumin, turmeric and chili powder and sauté over low heat until the oil separates.
Add chole, the reserved cooking liquid, salt and half of the coriander leaves.
Simmer, uncovered until the liquid has been absorbed.
Add a pinch of garam masala and serve chole sprinkled with the remaining garam masala, coriander leaves and shredded ginger.
Serve it with hot Puri or Bhutara.
Bhatura
Ingredients
Maida - 1000 gm or 1 kg
Milk - ½ glass
Sugar - 2 tbs
Yeast - 1 tsp
Egg - 1 no
Salt to taste
Method
Add the above ingredients together.
Add some warm water and mix it into thick dough.
Cover the dough with a wet cotton cloth and keep it aside for six hours.
One or two mixing in between will make the dough extra soft. Now the dough is ready.
Make small balls with the dough and roll it into thick rounds.
Then deep-fry it in oil.
Easy method: To make the dough ready in half an hour, mix the flour with soda (bottled soda), a little sugar and salt.

Biriyani
Ingredients
Meat (lamb or chicken) - 1 kg
Biriyani Rice - 2 kg
Onions - 6 no's
Tomatoes - 5 no's
Chopped - Onion, coriander leaves, mint leaves, tomatoes and chilies
Grind - Garlic and ginger; Powder- Cardamom, cinnamon and cloves
Coriander leaves and mint leaves - 50 gms each
Green chilies - 8 no's
Garlic, ginger pieces - ¼ cup each
Ghee or dalda - 300 gms
Milk of 1½ coconuts (2 glasses) (Optional)
Cardamom - 12 no's
Cinnamon - 1 ½ tbs
Cloves - 1 tbs
Salt - 2 tbs
Water - 14 glasses
(Water quantity should be always double the amount of rice, including coconut milk and the water added for cooking the meat)
Method
Soak the biriyani rice in water for half an hour. Drain the water.
Take a vessel, heat little ghee or dalda and heat the rice in a low flame for 10 minutes. Keep it aside.
Sauté the onion, green chilies and tomatoes in a big vessel in dalda or ghee for some time.
Then add the ground garlic and ginger and half the quantity of the masala powder.
Add the chicken pieces, salt and cook for 15 minutes (if it is lamb meat cooking time will be 25 minutes).
To it add rice, coconut milk, water, remaining masala powder, coriander and mint leaves, and close the lid.
Keep it on a gentle fire till cooked dry.
While serving decorate with fried onion, roasted cashew nuts and egg.
Dry Fruit Kheer
Ingredients
1 litre Milk
3/4 cup Sugar
15 strands saffron crushed, soaked in 1 tsp. hot milk
1/4 tsp. Cardamom Powder
10-12 no. Almonds slivered
10-12 no. Pistachios, slivered
5-6 no. Dried Peaches (quartered)
5-6 no. dried Apricots, nut removed, broken to bits
10-12 no. Raisins
10-12 no. Currants
Method
Soak raisins, currant, peaches, apricots, in hot water for 10 minutes.
Boil milk with cardamom, saffron and sugar for 10 minutes.
Drain the previously soaked dry fruit, add to the boiling milk, and stir gently.
Simmer, stirring occasionally, for 5 minutes.
Add almonds, pistachios, and take off from fire.
Serve hot.

Til Gajak
Ingredients
1 cup Sesame
3/4-cup Jaggery
2 tbsp Ghee
1/2 tsp Cardamom Powder
Method
Roast sesame on low flame stirring continuously to avoid it from spluttering out of the pan.
Boil jaggery in 1/2 cup water to form thick syrup.
When done, check its consistency by putting a drop of the syrup in a dish of cold water. If the drop stays firm the consistency is right.
Add the roasted sesame to the syrup. On a rolling board, spread a film of oil and spread the sesame-jaggery mixture.
Flatten it to 1-cm thickness. When the mixture is sufficiently cooled, cut into square pieces. Store in an airtight container.
Wheat Flour Laddu
Ingredients
Wheat flour - 1cup
Besan - ½ cup
Sugar - ½ cup
Sieves and powdered sugar - ½ cup
Melted ghee or dalda - ½ tsp
Chopped cashew nuts - 3 dsp
Cardamom powder - ¼ tsp
Melted Ghee - ½ cup
Method
Heat a pan and add the melted ghee or dalda.
Sauté wheat flour and besan together. (Do not allow the colour of the flour to change).
When it is done, remove from fire and allow cooling.
Add powdered sugar and cardamom powder and mix well.
Melt ½ cup sugar in a pan. Add ¼ cup ghee in it. Pour the content immediately on a greased flat vessel or bowl.
This syrup will become hard when cooled.
Grind it coarsely and add this to the prepared flour mixture.
Fry the cashew nuts and mix in the remaining ¼ cup ghee.
Add this to the flour mixture and mix well.
Make small balls before it cools.
Carrot Halwa
Ingredients
Grated Carrot - 8 cups
Milk - 6 cups
Sugar - 2 cups
Ghee - 4 tbs
Almonds or cashew nuts - few
Saffron or cardamom powder for flavoring
Method
Sauté the grated carrots in ghee.
Add milk and cook till very soft.
Add sugar, simmer for a while, till sugar dissolves and the mixture thicken.
Add saffron or cardamom powder.
Garnish with flaked almonds or cashew nuts.
Serve hot or cold as desired.
Peele Chawal
Method
Soak two cups of Basmati Rice in water. In a sauce pan heat two table spoons of Ghee with 1 teaspoon of saunf (fennel seeds) Add 1/2 a teaspoon of yellow food color,two green cardamoms, 3 1/2 cups of water and 1 cup of sugar. Let it come to a boil, then add the soaked, drained rice to it. Cover the pan and wait till it boils.
In a separate small sauce pan, heat 2 teaspoons of ghee and saute a cup of mixed nuts and raisins(cashews, almonds, pistachios, golden raisins and dry cranberries), until they turn pink and let out aroma.
When rice come to a boil lower the heat and let it cook to soft. Add the nuts and raisins 5 minutes before you think rice will be cooked completely. Serve hot when done.